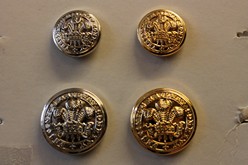 Created with reference to heritage buttons held in the FR Museum collection, but using modern techniques, replica buttons embossed with the Prince of Wales feathers and the words 'Festiniog Railway' around the border are available in two sizes and two finishes. Silver (nickel plate) buttons are appropriate to loco crew uniforms and gilt (brass) buttons are appropriate for station and traffic staff; they match the gold braid these grades seem to like! Large buttons (21mm) are for jackets and over coats, small buttons (15mm) are for cuffs and waistcoats. They have an eyelet on the back for attachment.
FR Heritage Group have invested in new dies for both sizes of buttons and stocks of both finishes are now available at £2.50 each, regardless of size or finish. Postage is an additional £1 per order in the UK and overseas at cost. If ordering from overseas, please enquire via sales@frheritage.org.uk and make a donation to cover the additional cost of postage.
The small gilt buttons are currently out of stock.